by HEATHER ROTH hroth@indianagazette.net on August 21, 2013 11:00 AM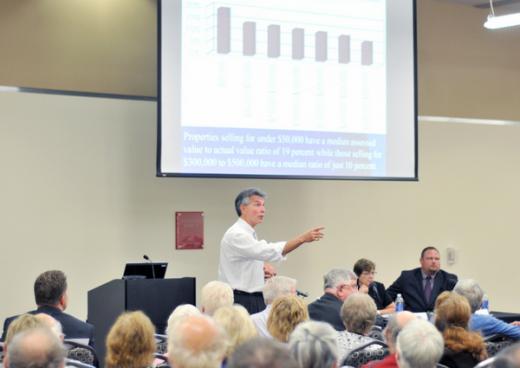 An informational meeting Tuesday night about the countywide property reassessment effort devolved into a sometimes hostile chorus against heavy property tax burdens, even as data collectors fan out in White Township today to start the process.
"We are committed to doing what is right from a fairness perspective," Indiana County Commissioner Rodney Ruddock told the crowded conference room at the Kovalchick Conference and Athletic Complex.
But many of those gathered countered that the reassessment will cause their property taxes to rise — and force them out of their homes.
The county is beginning a project to reassess the market values of each of the 48,000 properties in the county — something that hasn't been done since 1968. (All county, municipality and school property taxes are based on those assessed values). Since 1968 homes had increased or decreased in value, but that was never reflected in the assessed value. As such, two homes of similar worth could have wildly divergent property taxes.
So the county commissioners hired Evaluator Services and Technology Inc. to update the assessed values to present-day values. They will begin by sending data collectors to each property, taking pictures and notes about structures on each property.
When collection is complete, they will study the real estate market for each neighborhood, and then licensed appraisers will use all the gathered information to assign a value by January 2015.
Property owners will receive notification of their new assessed value and the impact on their tax bill (and the company says roughly a third will see no change, a third will see a smaller bill and a third will see an increase), and will have an opportunity to meet with staff to review their property value and present facts that might change it.
Formal appeals may also be heard before the Board of Assessment Appeals and then before the Court of Common Pleas.
Several people expressed frustration that work and money put into their homes will cause their taxes to go up along with their home values.
Homeowners who improve their properties are "going to be punished," one woman said to cheers. "We should have the right and the freedom to put on our land what we deserve and can afford and not be punished."
"I'm going to get lost in all this," said one man who said he built his own home over 19 months and feared he would be forced to sell it if his taxes get any higher.
"They don't know I was out there every night until midnight trying to build (it). My equity that I put in was sweat and not dollars, because I don't have that."
One woman said she'd be forced to sell.
"It's really hard when you pay over three months of your income on taxes," she said.
Reassessment is by law a "revenue neutral" project, meaning a municipality may not use it to increase their own revenues. Immediately after the new values are released, each municipality is required to adjust their millage rate so that they bring in the same amount of money as they did before.
Once the rate is adjusted, a county may take a separate vote to raise taxes, but by no more than 10 percent.
But some said they believed the reassessment is simply a precursor to higher taxes. And some lumped their frustration with a number of taxing bodies into their frustration with the county.
That overall sense of frustration with taxing bodies was a common theme of the evening. One woman asked whether the county was pursuing avenues of revenue other than taxes, to alleviate the burden. Several people asked about tax-exempt properties, whether they could foot some of the bill as well. One man wondered whether there was a way to have renters pay more into the tax system along with their landowning counterparts.
Others provided suggestions, like taxing the land but not buildings or abolishing property taxes in favor of income or sales taxes.
But Ruddock and officials with EST stressed that while everyone's assessed value will rise from 1968 values to current-day values, not everyone's taxes will go up. Some people will see lower bills, others will see no change.
"What I'm concerned about is the people who can't afford to pay their taxes," Ruddock said, to a chorus of "you should be" from his audience. But "we have to run the county," he added.
And two people reminded those gathered that the current assessed values aren't fair, and that taxes serve a purpose.
"I see everybody's tax bills," said one woman, who identified herself as a township tax collector. "We do have to make it a little more even."
And Gail McCauley, a supervisor in White Township, said that the cost of services such as roads is also going up.
"Nothing goes down and I'm saying that some people's taxes will go up, mine included, but I like where I live and I don't mind," she said.
PHOTO:  Dominick Gambino, president of Diversified Municipal Services Inc., of Wexford, answered a question from an audience member Tuesday at a public meeting on property reassessment at the Kovalchick Convention and Athletic Complex.  (MICHAEL WALKER/Gazette)