Interim assessment management includes monitoring the process of adding new construction to the tax blotter and obtaining an interim value for applicable construction projects.
In essence, Diversified coordinates the activity between you and your tax collector, building inspector (s) and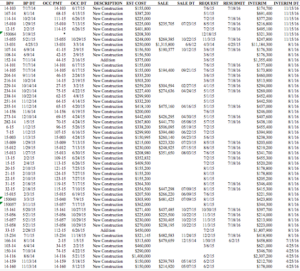 the county. In 1995, as Administrative Assistant for Special Reports and Audits to the Allegheny County Controller, Mr. Gambino helped prepare a report entitled "the Property Tax Escape". The report recommended changes in a long-standing policy that allowed owners of newly constructed properties, occupied after January 1st, to avoid paying property taxes on the new structure for up to a year and a half. While the taxing authority
can receive additional tax revenue it is the unfairness of not maintaining an efficient interim assessment program that was also exposed by the report.
To underscore the unfairness of the policy, the report detailed how a property owner, who occupied a $289,000 building on December 28, 1994, paid $8,385 in 1995 property taxes, while his neighbor, who took occupancy of a $304,000 property SIX DAYS LATER on January 3, 1995, paid just $15 in 1995 property taxes.
Diversified has successfully managed interim assessment programs for several taxing jurisdictions. We monitor each building permit and occupancy permit from its preparation by the building inspector to its valuation by the county assessors.
We provide thorough and extensive reports for you with complete information and totals. Here's a partial snapshot of what you can expect! Names and Parcel numbers have been greyed-out for privacy purposes. The reports can include a much more lengthy list of information.