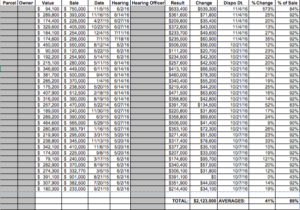 Diversified can analyze sales data to determine which properties may be incorrectly assessed and manage your assessment appeal program including the preparation of evidence and representation in the hearing.
We track all results to determine any trends resulting from different hearing officers opinions or changes Appeals Board policy and practices.
We update our clients as to individual appeal results with statistacal calculations including the total tax impact and sale prices compared to appeal results in order to analyze the success of the appeal program.
Diversified has participated in literally thousands of property assessment appeal hearings.