BY AARON AUPPERLEE  | Published Saturday, Oct. 24, 2015, 9:00 p.m.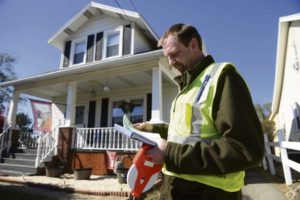 It took two years for data collectors in Washington County to visit about 80,000 homes.
They measured. They took photographs. They talked to homeowners if anyone was there.
Officials hope when property values arrive in March, complaints will be minimal.
"I'm sure we're going to get some questions," said Robert Neil, hired by the county to oversee the reassessment. "But I don't even want to use the word outcry."
Washington, Indiana and Blair counties are taking steps to avoid pitfalls that mired Allegheny County's 2010 reassessment in a backlog of appeals and complaints from property owners.
It has been decades since the three counties reassessed: Washington County in 1981, Indiana in 1968 and Blair County in 1958. Assessed property values are outdated in each county, leaving some properties over- or under-assessed by as much as 60 percent.
A school district in Washington County sued to force the reassessment. Commissioners in Indiana and Blair counties decided on their own to start reassessments.
Property tax millage rates in both counties — Indiana County's is 37.4, and Blair County's is 32.034 — have exceeded the 25-mill limit set by state law, allowed only with court approval. Revenues in both counties have stagnated, and reserves used to cover deficits have dwindled. Commissioners in both counties opted for reassessments to increase revenue and ensure the tax is uniformly applied.
"We're going to see huge increases and huge decreases in tax, but there needs to be," said Tim Barr, vice president and co-founder of Evaluator Services and Technology, the Greensburg-based firm hired to do the reassessments in Indiana and Blair counties.
Common Pleas Senior Judge R. Stanton Wettick Jr. ordered Allegheny County to reassess in 2009. One in six property owners in Allegheny County appealed their reassessed property value. Of the nearly 133,000 appeals filed in 2012 and 2013, 41 are pending before the Board of Property Assessment Appeals and Review, but thousands more are working their way through the courts, leaving taxes from billions of dollars in property values in limbo. The reassessment cost $16.6 million.
Municipalities and school districts, most notably Pittsburgh and Pittsburgh Public Schools, guessed where to set property taxes after the reassessment but guessed wrong, setting millage rates too low and operating at a deficit until they could increase taxes during subsequent budget cycles. Successful multi-million dollar appeals on commercial real estate further upset local budgets as officials had to plan for costly refunds.
Critics of the reassessment blasted Tyler Technologies, the Texas-based company Allegheny County paid $9.3 million to complete the reassessment, claiming gross errors and questioning how it could assign the same value to entire streets without visiting homes and value empty office buildings as though they were full. Wesley Graham, a Tyler Technologies employee and Allegheny County's chief assessor during the reassessment, said the county did not want the company to visit every home and stood by his company's work.
"We tried to have the best we could and learn from Allegheny County's mistakes," said Washington County Administrator Scott Fergus. "We wanted to make sure that the information gatherers were well trained, that they visited each property and that nothing was done from the office."
In 2008, the Washington and McGuffey school districts sued the county to force a reassessment. County commissioners fought back, eventually appealing the lawsuit to the state Supreme Court and losing in 2013. Out of options to oppose it, the commissioners started the reassessment.
Washington County chose Tyler Technologies and Graham to conduct its reassessment, paying the company $7 million. Graham said visiting every home in Washington County constitutes the main difference between the two reassessments. He said Allegheny County decided not to have his employees knock on every door. Instead, data collectors went down streets looking at homes but did not stop to measure and photograph them.
Allegheny County has nearly five times the number of properties as Washington County. Graham said that even with Washington County's approach, people will complain about their new values and question his work.
"It's not a popular subject," Graham said of reassessments. "It's been 30-some years since we had a reassessment in Washington County, and there's going to be mistakes made."
Tyler Technologies began gathering data on properties in October 2013 and completed most of its work two weeks ago, Neil said. Assessments of only a few newly built homes remain.
The county will mail notices of new property values in March and conduct informal reviews with people contesting the new values before mailing out final notices in July. People will have 40 days to file a formal appeal, which much be heard by the end of October so final values will be ready by Jan. 1, 2017.
Blair County will send notices of new property values next year. Indiana County sent notices in July and is hearing appeals.
"They noted how much their taxes were going to increase," said Nicole Hauptman, an attorney with the Shadyside law firm, Flaherty Fardo, which handles property assessment appeals. Hauptman said estimated tax values were not included in Allegheny County's mailers. "That was super helpful for people because it put it in the perspective of the bottom line, which is what people care about."
There have been 10,000 to 11,000 appeals in Indiana County. A judge is considering a petition to extend the appeal deadline and delay the deadline to apply for the state's Clean and Green program, which allows owners of large farms and forest land to reduce their property value and taxes.
Indiana County is paying Evaluator Services and Technology $2.5 million. Blair County is paying the company $3.34 million. Both counties hired as consultants M. Janet Burkardt, an attorney at the Downtown firm Weiss Burkardt Kramer, which represents Pittsburgh Public Schools in its assessment appeals and handled many reassessment appeals in Allegheny County; and Dominick Gambino, president and owner of Diversified Municipal Services, a McCandless-based firm specializing in reassessments. Gambino is a former head of property assessments in Allegheny County.
"Since it has been so long, more than 50 years, since they had a reassessment, there was really no one out there who really knew how to do it," Burkardt said. "We helped the counties choose the reassessment company focusing on the issues that we knew would come up."
The new values, however, have touched off criticism. Commissioner Mike Baker called the reassessment process "irrevocably broken" and suggested it should be redone. Tammy Curry, a resident of White Township and founder of the group Indiana County PA AGAINST Tax Reassessment Increases, filed a civil suit to stop the reassessment from going forward.
The reassessment will increase Indiana County's taxable property values from $582.7 million to about $5 billion, Barr said. And it will lower the millage rate from 37.4 mills to less than 5 mills.
"It's a zero sum game," Barr said. "Some people are going to pay more and some are going to pay less, but everyone is paying their fair share."
Aaron Aupperlee is a staff writer for Trib Total Media. He can be reached at 412-320-7986 or aaupperlee@tribweb.com.