Visit our full County Property Analyzer portal by clicking here!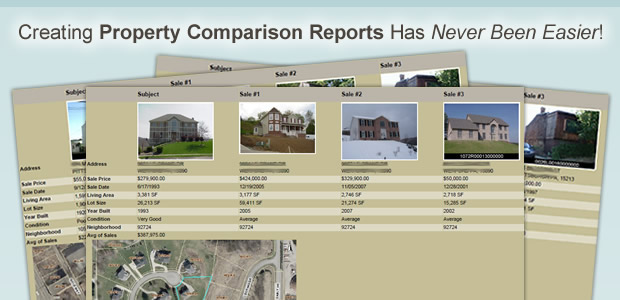 We've recently made some new enhancements to the COUNTY PROPERTY ANALYZER which will be released for all subscribers on November 14, 2014.
The new site enhancements will allow searches for multiple LAND USE CODES, STYLES, SCHOOL DISTRICTS, MUNICIPALITIES, and NEIGHBORHOOD CODES.
In addition the search fields have been reordered for more efficient use of screen space and now provide for three selection fields across the page.
When using the export to EXCEL feature, the export will be limited to the first 500 properties selected.
We are also providing a Google Map feature marking the subject property and up to three comparable properties. It allows the use of several zoom levels to assure all properties are marked. This feature can be created as a PDF in addition to your PDF Comp Report.
To better understand these enhancements please click on the links to our announcement VIDEO below and a
"Q + A" page http://countypropertyanalyzer.com/faq.php
As a result of this new enhancement, your "Saved Comparable Queries" and "Saved Subject Searches" will be deleted. "Saved Comparison
Reports" will still be accessible.
If you have any suggestions or experience any difficulties, please contact our support department at lmsonick@zoominternet.net or call either 724-934-4888 or 412-952-0931
Thank you
County Property Analyzer staff